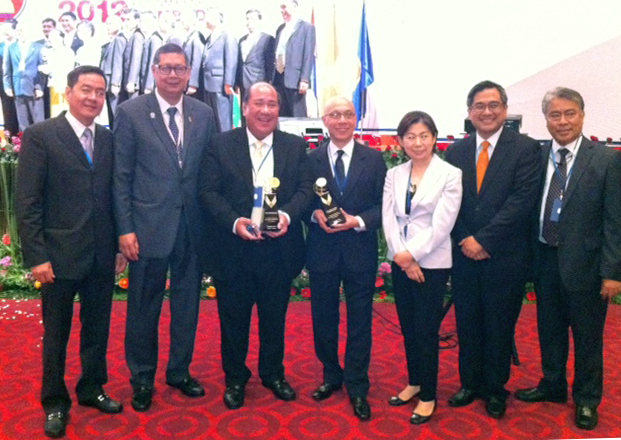 EEI Corporation, one of the country's leading construction companies, was given the ASEAN Business Award for "Most Admired ASEAN Enterprise - Employment Category" under the classification of Large Company in the recently concluded 9th ASEAN Business and Investment Summit (ASEAN-BIS) last November 16 - 18, 2012 in Phnom Penh, Cambodia. EEI President and CEO Roberto Jose L. Castillo received the award in behalf of the Company.
The ASEAN Business Awards honors outstanding and successful ASEAN enterprises that have contributed to ASEAN's economic growth. The ASEAN-BIS, organized by the ASEAN Business Advisory Council and co-hosted by the Cambodia Chamber of Commerce, is an official side-event to the ASEAN Leaders Summit and the East Asia Summit, where no less than 16 Heads of States and Governments convened in the Cambodian capital.
At present, EEI has a manpower complement of about 22,000 personnel working on its projects in Saudi Arabia, Singapore, New Caledonia and all over the Philippines.
EEI has subsidiaries involved in machinery and equipment trading and service, power, real estate and manpower supply. EEI is a member of the Yuchengco Group of Companies and its shares of stock are publicly traded at the Philippine Stock Exchange.