Disaster Relief Operations
EEI Represents YGC in PARR as Development Sponsor
EEI, representing YGC, was tapped by the Office of the Presidential Assistant for Rehabilitation and Recovery to be a Development sponsor in rebuilding communities devastated by super typhoon Yolanda, which hit the Philippines last November 2013. EEI was asked to take care of one of the 24 areas for Intervention and Development which the Yolanda-affected areas were subdivided into. The area that EEI was involved in was the western part of the 4th district of Leyte covering five municipalities namely Albuera, Matag-og, Merida, Palompon, and Isabel. As a development sponsor, it was tasked to focus its programs on projects that have to do with livelihood, education, health, and housing.
Since many residents of Leyte were copra farmers, and because most of the coconut trees were felled by the super typhoon, EEI decided to focus on the provision of jobs to improve the livelihood of the affected residents. EEI conducted several recruitment activities and job fairs in neighboring cities and municipalities and prioritized the hiring of locals of Leyte. It also chose to engage subcontractors based in the area first, before looking elsewhere for other service providers.
Through the joint initiative of the Project Management Team of the PASAR project and the Organizational Development Department of EEI, the Company developed training programs for trades that support its projects, such as scaffolding, pipe-fitting, steel works, carpentry, and masonry. It then offered skills-training programs for the residents to give them employment opportunities not just in Leyte but in EEI's construction projects all over the Philippines and in the Kingdom of Saudi Arabia.
The Project Management Team collaborated with local government units of Leyte's 4th district for the locally-based skills-training programs . Last August 14, 2014, the training program was launched with a total of 66 male candidates who passed the screening and were taught technical and hands-on skills in scaffolding and pipefitting in cooperation with the Visayas State University in Isabel that allowed the use of the venue. The graduates were then absorbed by the projects of EEI. The team also conducted training for masonry and steel works for residents in the municipalities of Palompon and Albuera. Palompon Institute of Technology served as a venue for classroom lectures and practical applications for 46 aspiring masons, while 31 steelworker trainees in Albuera were trained in a facility donated by the Government of Singapore. The trainees repaired the destroyed school structures in their district as part of their training. EEI provided all the training modules, supplies, materials, tools, allowances and fees, and accommodations for the trainees. Trainees that completed the program were immediately hired by the Company.
In all, the Company employed more than 300 workers from Leyte. Some were assigned in Manila projects and a few were even mobilized in ARCC projects in Saudi Arabia.
---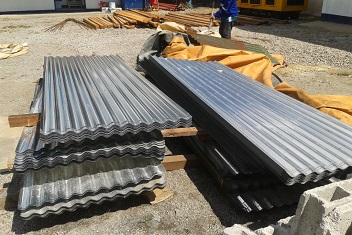 Donations to the Municipality of Isabel
The Company donated construction materials, such as corrugated GI sheets and cement bags for the repair of the structures in the Municipality of Isabel. The Company also partnered with the PASAR Foundation in their rehabilitation works, especially in its efforts in repairing and renovating the schools that were damaged.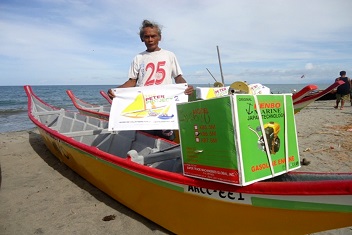 ARCC and Shiekh Abdullah Al Rushaid Helped Fishermen in Leyte
Through the AY Foundation, ARCC and Shiekh Abdullah Al Rushaid sponsored two motorized boats for fishermen in Barangay Sungi in Dulag, Leyte, who were affected by Typhoon Yolanda.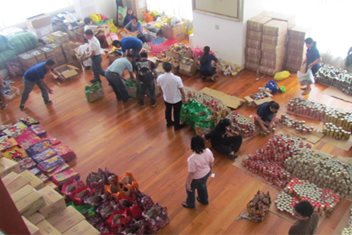 Typhoon Yolanda Relief Operations
Typhoon Yolanda caused widespread destruction, affecting the communities of several regions, most especially Eastern Visayas. EEI sent volunteers and trucks to Tacloban, Leyte to transport relief goods collected by the AY Foundation, Inc. Because of the urgent need for water, EEI purchased a machine that extracted water vapor from the atmosphere to collect clean drinking water, and sent this machine, along with a generator set and ample fuel supply, to Tacloban. The system generated more than 20,000 liters of drinking water. Along with other members of construction industry associations, EEI also lent its trucks and provided assistance to the Department of Public Works and Highways and several other private organizations to assist in the clearing operations and transport of relief goods.
Donations from the employees of EEI Corporation, EEI subsidiaries, ARCC, and Sheikh Abdullah Al Rushaid (EEI's partner in Saudi Arabia); members of the EEI Golf Club, ex-EEI employees, partners, and friends easily amounted to more than 15 million pesos. Also collected were two truckloads of assorted relief goods from EEI employees from the homebase, subsidiaries, and projects. These were sent to AY Foundation, Inc., which consolidated all donations from the various YGC Member Companies.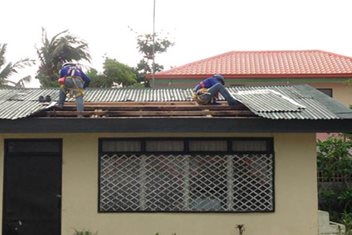 Nabas Wind Farm Project Aids Libertad Elementary School
The EEI Team of Nabas Wind Farm Project aided in the reconstruction of the Libertad Elementary School, which was severely damaged by Typhoon Yolanda. EEI did major repair works of classrooms.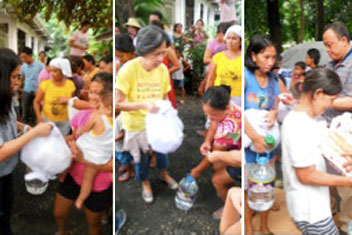 AY Foundation's Relief Operations
EEI Corporation participated in AY Foundation, Inc.'s relief operations for the victims of the habagat in Montalban, Rizal last August 24, 2013. A total of 900 affected families were aided in the operation – 500 families from Brgy. Wawa and 400 families from Brgy. Rosario. The YGC also donated relief goods for 600 families at Smokey Mountain Reclamation Area in Tondo.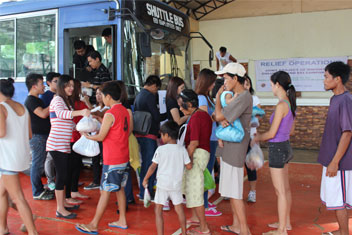 Bulacan Relief Operations
Last August 19, 2013, typhoon "Maring" and the subsequent "Habagat" caused nonstop heavy rains and severe flooding which affected 500 areas in 51 towns and cities in Ilocos, Southern Luzon, and Central Luzon with numerous cities and municipalities declared under a state of calamity.
One of the areas declared under a state of calamity was Bulacan. Even after a month, places in Meycauayan, Bulacan were still flooded. EEI, together with the Knights of Columbus (KOC) – Meycauayan Chapter conducted a relief operation on September 21, 2013. With the assistance of 27 volunteers, EEI was able to help 200 families.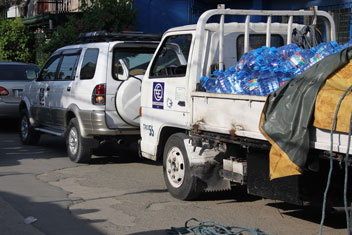 Typhoon Pablo
In response to the devastation caused by Typhoon Pablo in the last quarter of 2012, EEI assisted various organizations in their relief operations and requested for donations from its employees. EEI was able to collect a total of Php 1,153,105.11 - Php 329,294.11 from vacation leave cash conversions and donations from EEI, GAIC/GAMSI, ECMI, EEI Realty, EE employees and from the EEI Golf Club, Php 323,811.00 (peso equivalent of SR 30,365.00) from cash donations from ARCC employees and Php 500,000.00 from EEI Power. These sums of money were remitted to the Philippine Red Cross, Compostela Valley Chapter.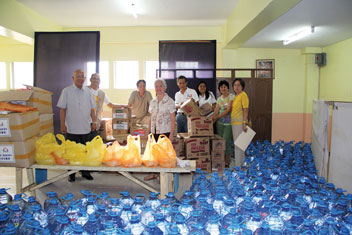 Typhoons Pedring, Quiel, and Sendong
In response to the devastation caused by typhoons Pedring, Quiel, and Sendong, EEI requested donations from its employees and lent trucks to assist private organizations in bringing relief goods to many of the hard-hit areas.
For typhoons Pedring and Quiel, EEI went to areas in Bulacan, Pampanga, and Nueva Ecija to deliver blankets, clothes, water, toiletries, food, and other relief goods.
EEI representatives went to Calumpit, Bulacan to donate over Php 70,000 worth of water, coffee, noodles, and assorted canned goods like corned beef, adobo, mechado, afritada, and caldereta to two barangays in the areas that were still isolated due to floodwaters. These goods were entrusted to the Rotary Club in Calumpit for proper allocation and distribution to the flood victims.
For typhoon Sendong, EEI and its subsidiaries were able to raise a total of Php 650,000 for the victims which it coursed through the AY Foundation. This does not yet include the donations given by employees from ARCC which reached SR 16,742. In addition EEI sent, through private organizations, over 70 bags and boxes of clothes, shoes, slippers, blankets, toys, noodles, coffee, and canned food to the victims in Mindanao.